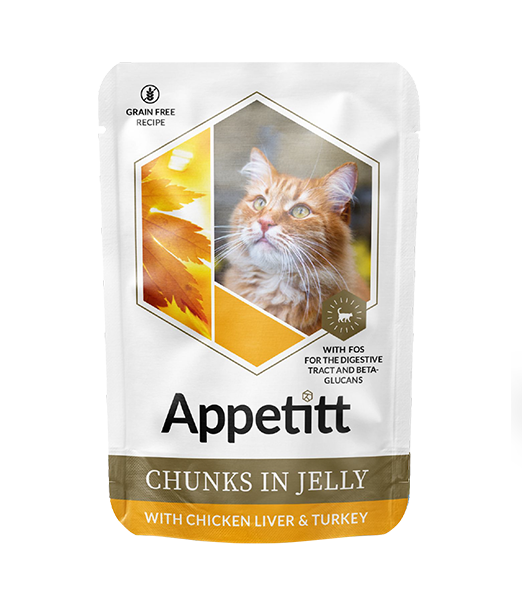 Appetitt with Chicken liver and turkey (chunks in jelly) 85 g
With chicken liver and turkey
100% animal protein and contains no grain raw materials
Fructo-oligosaccharides (FOS) and dietary fiber for digestion
Beta-glucans for general health
With salmon, a natural source of omega-3 fatty acids
Complete feed with chicken liver and turkey for adult cats
Appetite wet food for cats with chicken liver and turkey consists of 100% animal protein and contains no grain raw materials. The food contains fructo-oligosaccharides (FOS) for digestion and with beta-glucans for general health. The product contains salmon, which is a natural source of omega-3 fatty acids and with fiber for digestion.
After the bag has been opened, the bag must be kept in a refrigerator (not above +8°C) and consumed within 2 days. Waste management: Pouches are recycled as plastic and paper box as paper packaging.
Single pouch, box with 12 pc or in mixed multipack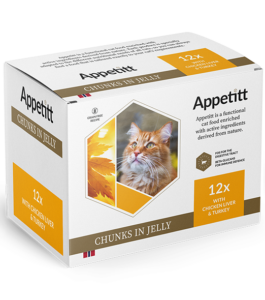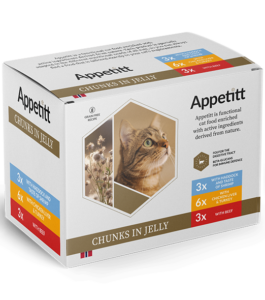 For more details such as feeding table, nutritional content and more, download the product sheet here:
Here are some of our best selling dog foods. Click on the product to read more about the nutritional content or click here to find your nearest retailer of Appetitt dog food and cat food.