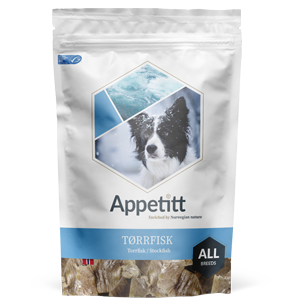 Feed supplement for dogs
100% dried, Norwegian pollock
Dried fish is a natural source of omega-3 fatty acids
Suitable as a reward or snack.
Appetitt Stockfish, complementary feed for dogs
Appetitt Stockfish (500g) is made from 100% Norwegian pollock. Stockfish is a natural source of omega-3 and can be used as a reward or snack, for example after exercise or walks in the woods and fields.
Appetitt Stockfish comes from a well-managed and sustainable fishery in accordance with international standards (MSC certified). MSC requirements meet global best practice guidelines for certification and eco-labelling programs.
The recommended number of pieces for a small dog is 1-2 per day, for medium-sized dogs it is 3-4 pieces per day, and for large dogs it is 4-5 per day. It is recommended that your dog always have access to clean water and that you always supervise your dog when giving stockfish. Stockfish should not be given
to dogs that devour their food without chewing.
Store in a dry place, no warmer than normal room temperature. Waste management: Recycled as plastic
For more details such as feeding table, nutritional content and more, download the product sheet here:
Here are some of our best selling dog foods. Click on the product to read more about the nutritional content or klick here to find your nearest retailer of Appetitt dog food and cat food.