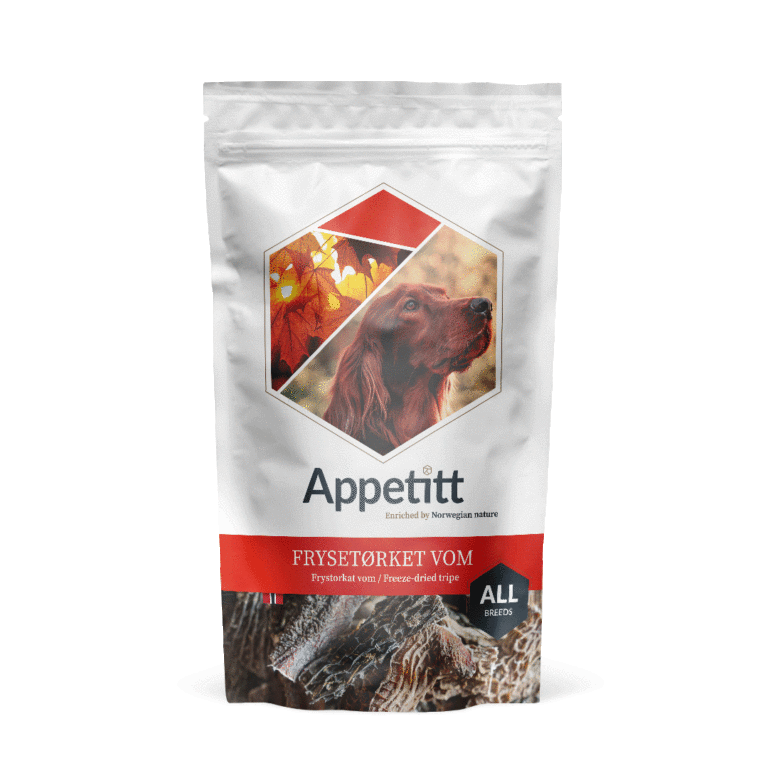 Appetitt Freeze-dried rumen 500 g
Freeze-dried rumen from Norwegian cattle, a supplementary feed for dogs
The feed supplement has a high energy content with 57% fat. Tasty!
Appetitt freeze-dried rumen, feed supplement for dogs
100 % freeze-dried rumen from Norwegian cattle. Appetitt freeze-dried rumen from Norwegian cattle is very tasty and has a high energy content. Excellent as a feed supplement for dogs with a high level of activity. For example, during and after training, hunting and running. Also excels as supplementary food for dogs that need to gain weight or during recovery
For every 100 grams of freeze-dried rumen, 5 dl of lukewarm water should be added. Allow the food to swell for 20 minutes before giving it to the dog. Freeze-dried rumen is not a complete dog food and should not exceed 50 % of your dog's daily ration (based on dry matter) over time. Remember that your dog should always have access to fresh drinking water.
Always remember to add water when feeding freeze-dried rumen!
Store in a cool, dry place.Waste management: Recycled as plastic
For more details such as feeding table, nutritional content and more, download the product sheet here:
Here are some of our best selling dog foods. Click on the product to read more about the nutritional content or klick here to find your nearest retailer of Appetitt dog food and cat food.