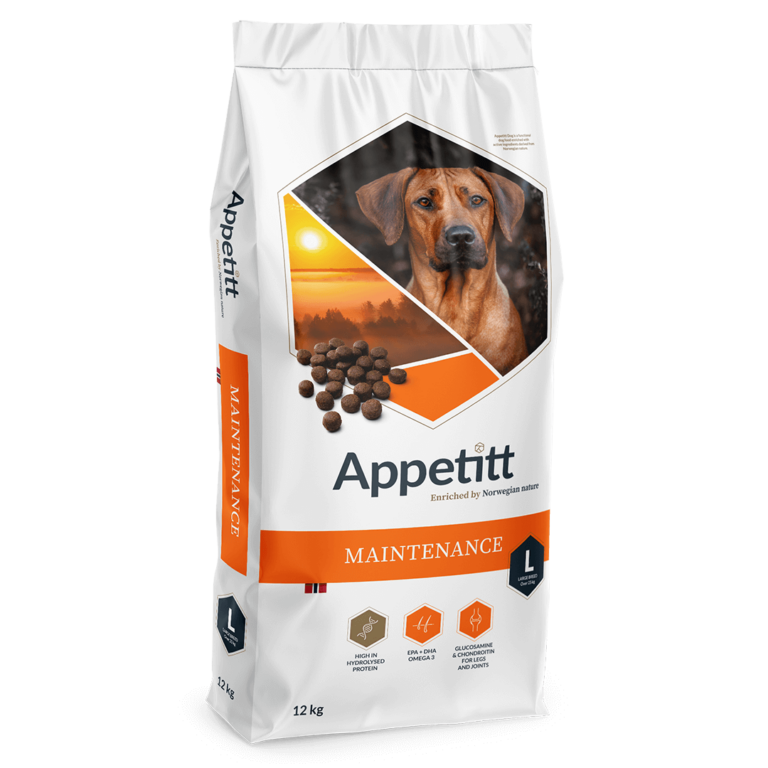 Appetitt Maintenance Large Breed 12 kg
Complete diet for large breed adult dogs (over 25 kg/55 lbs ) over 1 year of age, without special needs and with normal activity level
Adapted for dogs without special needs and with normal activity levels
With highly digestible proteins of animal and marine origin
Large kibbles
Complete diet for large size breed adult dogs from 1 year of age over 25 kg/ 55 lbs
Appetitt Maintenance Large Breed is a complete diet for large size breed adult dogs (over 25 kg/ 110 lbs) over 1 year of age.  The food is adapted for dogs without special needs and with normal activity levels. "Normal activity" is considered as the activity level of dogs that are exercised for 1-2 hours daily without particularly high exertion.
This food is rich in highly digestible proteins of animal and marine origin. With the exception of rice, the food is grain free and high in hydrolysed proteins. Antarctic krill supports your dog's skin, coat and joints with the essential omega-3 fatty acids, EPA and DHA, as phospholipids.
Natural glucosamine and chondroitin from salmon and chicken for joints and bones.
High content of natural vitamin E and rosemary, for skin, coat, joints and overall health.
Fructo-oligosaccharides (FOS) from vegetable fibres for digestion
Beta-glucans for general health
Large kibbles
For more details such as feeding table, nutritional content and more, download the product sheet here:
Here are some of our best selling dog foods. Click on the product to read more about the nutritional content or klick here to find your nearest retailer of Appetitt dog food and cat food.