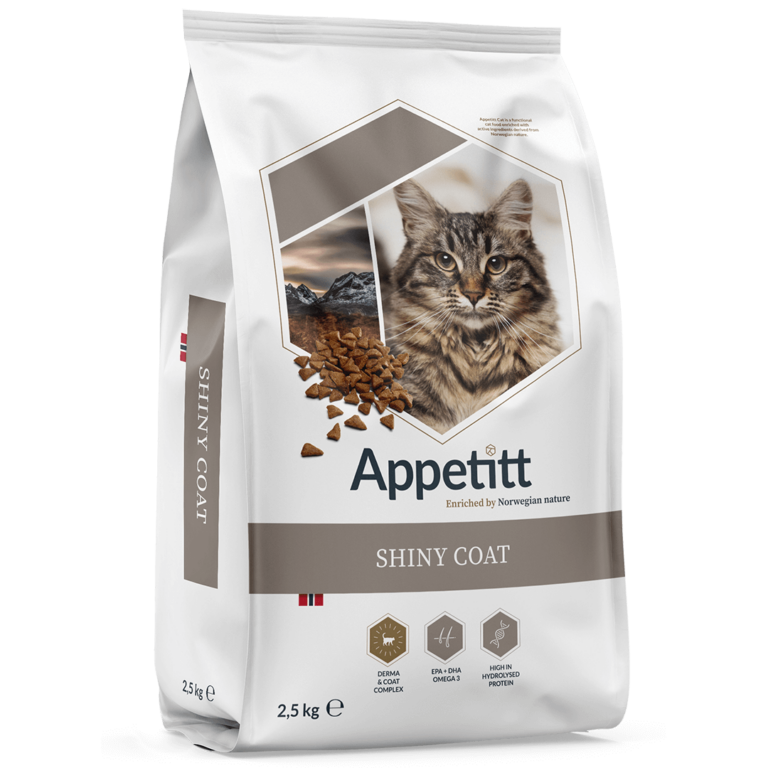 Appetitt Shiny Coat 2,5 kg
Complete food for adult cats (dry food for cat)
Rich in taurine, which contributes to a healthy heart, good eyesight, good digestion, and fertility.
Special formula of biotin, methionine, fatty acids and organic zinc ideal for coat and skin
With yucca to help reduce stool odor
Complete diet for adult cats
Appetitt Shiny Coat is rich in highly digestible proteins of animal and marine origin.
This cat food contains a special formula of biotin, methionine, fatty acids and organic zinc ideal for your cat's coat and skin.
With the exception of rice, the food is grain free and thus has a low content of ingredients that can contribute to development of intolerances and allergies. Antarctic krill provide your cat with the vital omega-3 fatty acids, EPA and DHA in the form of phospholipids. Ideal ratio of omega-3 and omega-6 fatty acids and a high content of vitamin E and rosemary for your cat's joints, skin, coat and overall health.
Natural glucosamine and chondroitin from salmon and chicken for joint and bone health
Fructo-oligosaccharides (FOS) from beet fibres and mannan-oligosaccharides (MOS) from yeast for your cat's gastrointestinal health
Beta-glucans from yeast for your cat's overall health
Yucca extract for odor in cat litter
Appetitt Shiny Coat is also suitable for neutered and sterilised (spayed) cats
For more details such as feeding table, nutritional content and more, download the product sheet here:
Here are some of our best selling dog foods. Click on the product to read more about the nutritional content or click here to find your nearest retailer of Appetitt dog food and cat food.